Attention:
It has come to our attention that there are email and posts floating about the net connecting,
Ellen Easton aka Granny Cougar
,
to the Southeast Kituwah Nation. We felt it very important to let others know that this person is no longer connected to the
Southeast Kituwah Nation. She has
not
been a member for over 5+ years now and even then, left with commitments unfulfilled with
several of our very own members.
Thank you for listening - Joint Councils, Southeast Kituwah Nation
Uganawvkalvgv Kituwah Ayeli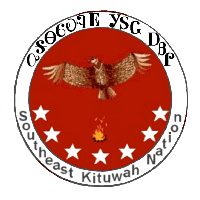 The
Uganawvkalvgv Kituwah A
yeli is a non-federally recognized tribal entity.
We are not affiliated with the Cherokee Nation of Oklahoma, the Qualla Boundary,
or the United Keetoowah Bands. We have banded together to form a traditional
Tsalagi Band. Our primary purpose is to preserve, protect, and practice traditional
tsalagi ways, as well as teaching and preserving our language for the next generations.


Prayer Page
-
Updated 2-15-2010
Questions or comments?





Or send snail mail to:
Uganawvkalvgv Kituwah Ayeli Tribal Office
244 Red Fox Run
Warner Robins, GA 31088

Last Updated February 15th, 2010